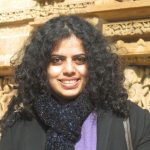 Komal Potdar is a conservation architect. She is an Early-Stage researcher at Bezalel Academy of Arts and Architecture and a doctoral candidate at the Chair of Heritage and Values in the Department of AE+T in the Faculty of Architecture and Built Environment at TU Delft. She has over 8 years of work experience in heritage conservation and management. She is an alumna of the School of Planning and Architecture, New Delhi (2015) and Sir J.J. College of Architecture, Mumbai (2011). She also has a P.G. Diploma in Sustainable Management of Natural Resources & Nature Conservation from the Ecological Society, Pune 2021-22.
Before starting her Ph.D., she was appointed as an in-house consultant with the Archaeological Survey of India, under the Ministry of Culture, Government of India. Her most successful projects include the UNESCO World Heritage inscription of Dholavira, a Harrapan city; a Site Management Plan for the Taj Mahal, Agra for the Hon'ble Supreme Court of India and visitor infrastructure development for the Red Fort, Delhi. She has received numerous scholarships and awards for continuing professional skills and internships. This includes the Charles Wallace India Trust fellowship in UK 2019-20, and an internship with the US-ICOMOS International Exchange Programme 2017. She was also awarded the INTACH Heritage Academy Research Grant 2016-17 to conduct research on vernacular heritage in Konkan, Maharashtra to develop a management plan. In the past, she has been associated with projects for conservation, research, and outreach with CRCI India Pvt. Ltd. (New Delhi), and ICOMOS India in collaboration with ICOMOS Norway.
Her field of practice includes architectural conservation, World Heritage management, and community participatory efforts toward cultural conservation, and believes in multi-disciplinary approaches towards investigation, assessment, and interventions. Komal has published a range of scholarly papers in national and international journals. In the past, she has worked with NGOs namely Janwani, MCCIA (Pune), and CitiSpace- Nagar Alliance (Mumbai), closely working with the State Government and Urban Local Bodies for projects related to urban planning.
Her volunteer works include being the Core team member for the Our World Heritage Initiative in 2021 and contributing to the report on Information Technology for World Heritage matters.
Send an e-mail
Go to Komal's linkedin page